VISIT RECOGNITION

Supplement a tablet PC and transform your loyalty program into a simple, customer-powered,
visit based
system.
Tablets work very well for many businesses, both small and large, and offer the most passive method of operating your loyalty program. Quickly eliminate the burden of capturing member data and processing member transactions. The best part is, all of our tablets ship to you pre-loaded and ready-to-go, complete with milled-aluminum black stand, integrated card reader and card holder. If cards are of no interest, simplify your program even more by using mobile phone numbers instead. For a quick, simple solution for loyalty management, the visit model just might be right for you!
Watch our 15 minute video presentation to see if our visit-based loyalty solution is right for you!
HOW VISIT-BASED LOYALTY WORKS

The loyalty tablet is designed to be situated in a high traffic, accessible area. The basic goal of the tablet is to transition tasks such as new enrollments, account inquires and even offer/reward redemptions away from the cashier. The customer simply scans their membership card at the tablet (or enters mobile number or email) and completes the enrollment process. Of course, members automatically receive any enrollment incentives you have in place. Once enrolled, members may check-in on every visit to your business and gain points for visiting. You define the amount of points issued for each visit and the threshold period of time between visits. Members can view past transaction and redemption history, modify their personal information, view the status of their account and most importantly, they can even claim rewards they have earned, right from the tablet. It's that easy. In the simplest form, the cashier never needs to login or access the Preferred Patron™ system... now that's self-service!
PURCHASE RECOGNITION
For some businesses, treating all visits as equal simply does not make sense! If you want to recognize your customers based on their purchase behaviors, then you'll find our cashier-managed solution is the ideal choice! By capturing customer spend and/or products and services purchased, you enhance your marketing capabilities and opportunities significantly. For instance, you would know who your top and bottom 20% spenders are, allowing you to segment them for effective marketing. Likewise, by capturing products or services purchased, you could promote other similar products and services to customers likely to hold interest based on their past purchases!
HOW SPEND-BASED LOYALTY WORKS

You would operate using one of our cashier facing interfaces or you would supply data from an external source using an electronic data feed or using API integration. Our solution co-exists nicely with most Windows programs, or runs on a tablet PC we supply, and can even run on a Mac using Safari or other web browser. It's that easy.
SAMPLE CASHIER MENU - PRODUCTS & SERVICES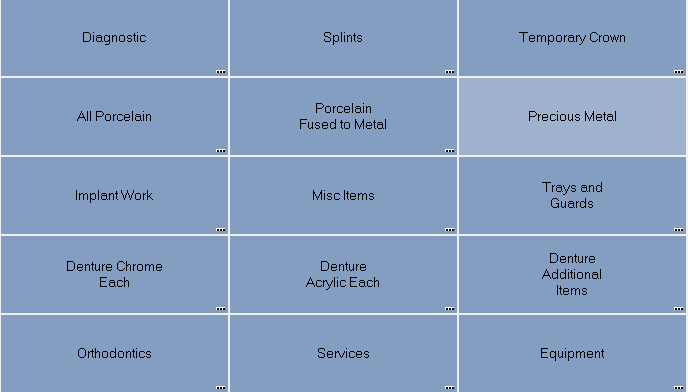 DENTAL PRACTICE RECOGNITION EXAMPLE
INFLUENCE MARKETING
For some businesses, it's not sufficient to recognize customers on the basis of spend nor frequency of visit, but instead, based on desired behaviors you want to influence. This is a form of Influence Marketing through recognition. Our system opens this opportunity to you, to acknowledge shoppers for desired behaviors which might not necessarily have an associated purchase or monetary value. Here are a few random examples:
For a dentist, good check-up exams might be an example.
For an orthodontist, perhaps re-enforcing positive hygiene and care behaviors regarding braces.
For insurance carriers, perhaps its motivation for businesses to reward employees for visiting the gym on a regular basis.
For auto-insurance carriers, perhaps its recognition for being a safe driver.
For veterinarians, perhaps its bringing a pet in for regularly scheduled exams, or being up-to-date on vaccinations.
For recurring billing scenarios, perhaps its recognition for paying invoices on time.
For automotive dealerships, perhaps its recognition for keeping up with regularly scheduled maintenance.
The list goes on and on... what positive behaviors might you want to influence in your business?
SAMPLE CASHIER MENU - INFLUENCE POSITIVE BEHAVIORS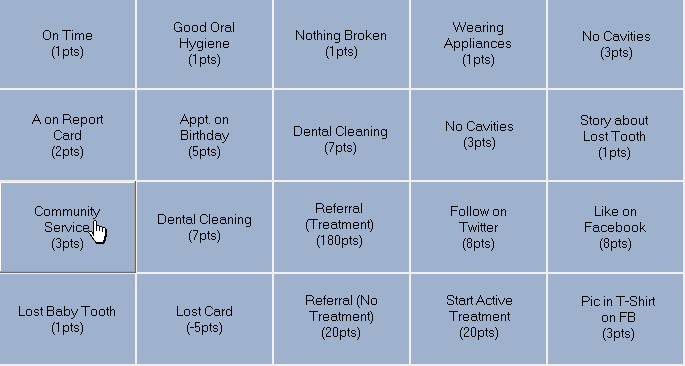 DENTAL PRACTICE RECOGNITION EXAMPLE