ABOUT OUR LOYALTY PROGRAM
LOYALTY PROGRAM FEATURES
HOW IT WORKS
Customers register with your loyalty program, either online or in-store, shop and earn points towards rewards they can redeem and/or earn cash incentives for use another day. Behind the scenes, advanced marketing automation processes churn through your customer data and target your customers according to their past visit, spend and purchase behaviors. Omni-channel communications are automatically triggered to reach out and engage the right customers at the right time with meaningful incentives that will drive them back again and again and again!
CUSTOMER ENGAGEMENT

MARKETING AUTOMATION

WHAT YOU GET
MARKETING PORTAL
You get our intuitive marketing manager. Choose from numerous ready-to-go promotions and tailor each to your specific needs. Manage e-mail and sms communications and mine your customer data with ease!
CASHIER PORTAL
Run in any web browser on any device, including your PC, Mac and mobile phone or on a tablet! Great for purchase based loyalty systems.
CUSTOMER FACING TABLET
Enhance customer engagement with an optional tablet. Great for visit based tracking or to simply enhance customer engagement.
MOBILE APP
Using the mobile app, your customers have real-time, interactive access to your rewards program, including proximity check-ins, card storage and in-app redemptions.
BRANDED CARDS
When it comes to your business and building brand-awareness, we know the "community card" philosophy simply won't work.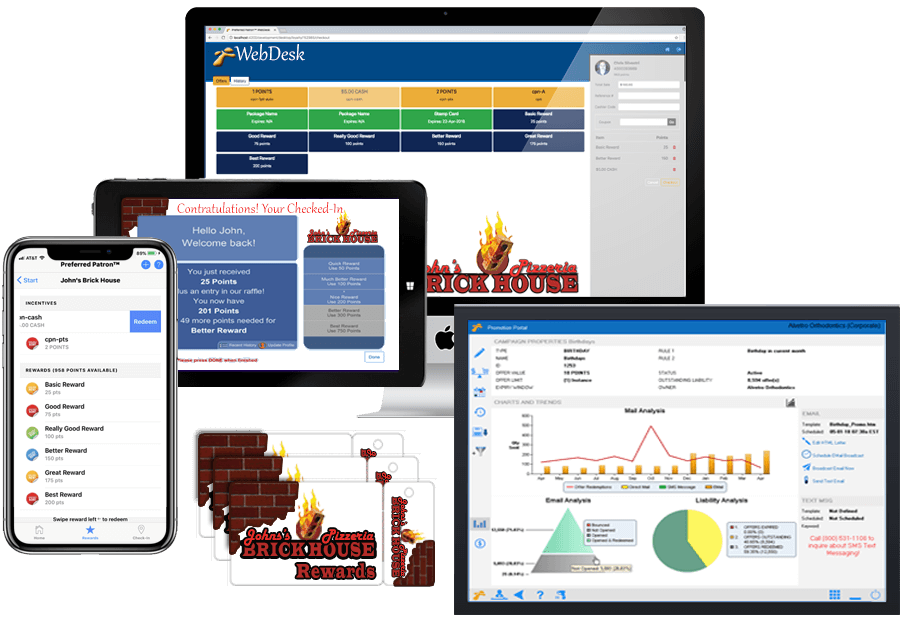 WHY CONSIDER A LOYALTY PROGRAM?
Frequent, repeat business is key to prosperity. With the right customer loyalty software at your disposal, you can influence purchase behaviors in favorable ways. It's a proven fact - operating a loyalty system influences increased frequency of visits as well as increased sales volume, which equates to higher overall consumer spend.
We encourage you to watch our brief video presentation!
It's an undisputed fact that it costs between 5 and 7 times more to find a new customer than it does to keep or get more business from an existing customer and yet astonishingly, few businesses, especially smaller businesses, have understood the enormous benefits to be gained from implementing an effective customer loyalty program.